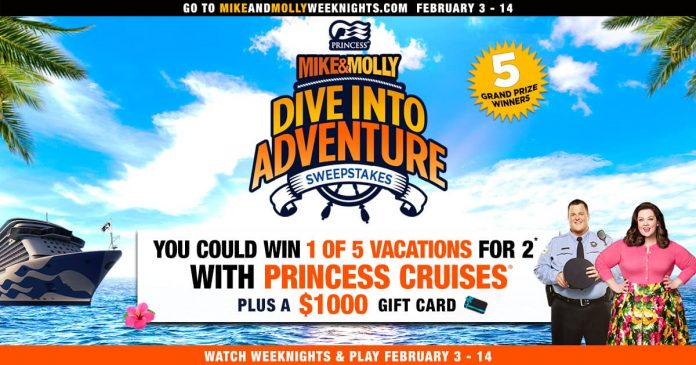 Mike And Molly Word Of The Day: Need the Mike And Molly Word Of The Day for today to enter the Dive Into Adventure Sweepstakes? Experts at Winzily watch Mike & Molly five nights a week for the word of the day. All this, in order to help you win great prizes.
Be sure to come back daily February 14 for more chances to win 1 of 5 vacations for two with Princess Cruises.
What Is The Mike And Molly Word Of The Day?
Each weeknight through February 14, an entry word will appear on screen and you must enter online at mikeandmollyweeknights.com for a chance to win. A different Word Of The Day will be revealed daily and you need to input the correct word prior to receiving an into the applicable Drawing.
| Day | Mike And Molly Sweepstakes Word Of The Day |
| --- | --- |
| February 3 | CARIBBEAN |
| February 4 | ALASKA |
| February 5 | MEXICO |
| February 6 | EUROPE |
| February 7 | HAWAII |
| February 10 | CARIBBEAN |
| February 11 | |
| February 12 | |
| February 13 | EUROPE |
| February 14 | HAWAII |