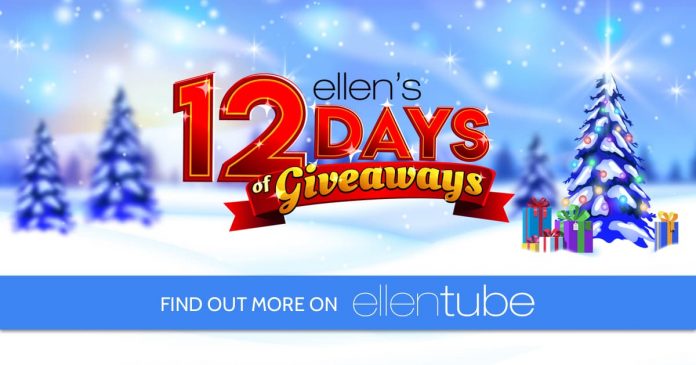 Wondering who are the winners of Ellen 12 Days Of Christmas 2020? Think you might be among the lucky ones? You can find the list of winners by visiting ellentube.com/12days but you can also easily find the answer to your question here on Winzily.
Ellen winners are announced each day during the show and the names of the 12 Days of Christmas winners are added at the bottom of each giveaway page on Ellentube. To make things easier for everyone, we are listing every single Ellen 12 Days Winners in the chart below.
Who Are The Ellen 12 Days Of Giveaways Winners?
Days
Names
Day 1 Winners

Mary M.,

De Soto, MO

Eileen C., Hanover, MD

Chris G., Fallon, IL

Rosemary H., Collingswood, NJ

Lori P., Forney, TX

Birgit P., Easton, PA

Marueen C., Pittsburgh, PA

Cindy W., Negaunee, MI

Calvin P., Los Angeles, CA

Day 2 Winners

Nancy P.,

Patton, PA

Timothy M., Wylie, TX

Mark P., Montrose, CA

Katera M., Salters, SC

Amber L., Ventura, CA

Savanna S., Destin, FL

Angie G., Fairway, KS

Kushal S., Canton, MI

Brianne M., Barre, VT

Day 3 Winners

Maureen B.,

Mesa, AZ

Sheri R., Diamondhead, MS

Ibis S., Montclair, VA

Amy L., Burlingame, CA

Ashlea R., Elmont, NY

Julie S., Lake Tapps, WA

Renee V., Simi Valley, CA

Kira K., Menomonee, WI

Julianne K., Omaha, NE

Day 4 Winners

Diane S.,

Richardson, TX

Sarah T., Sparta, MI

Diana G., Towson, MD

Jeanette D., Hutchinson, KS

Sheryl H., Groesbeck, TX

Christy S., Norman, OK

Amary D., Anthony, FL

Marcia L., Blackfoot, ID

Sharetta D., Hallandale, FL

Day 5 Winners

Anitha P.,

Morrisville, NC

Beth C., Elbow Lake, MN

Kelley E., Mountain Home, AR

Trudi R., Valmeyer, IL

Dorothy B., Eureka Springs, AR

Stephanie H., Marlborough, MA

Madonna B., Howell, MI

Christina M., Lakeland, FL

Angel C., Covington, VA

Day 6 Winners

Julie P.,

Aberdeen, NC

Paula K., Vancouver, WA

Janice B., Brick, NJ

Sharon L., Omaha, NE

Rosa G., Charlotte, NC

Shirley T., Orangeburg, SC

Cathy H., Pittsburgh, PA

Jennifer P., Mandeville, LA

Dora G., Harlingen, TX

Day 7 Winners

Alexandra S.,

Fort Madison, IA

Mary G., Pleasant Plains, AR

Kamiko B., Manteno, IL

Sandra G., Waltham, MA

Kate A., Des Peres, MO

Lora C., Birmingham, AL

Amanda C., Higbee, MO

Steven H., Aurora, IL

Driscilla C., Fort Leonard Wood, MO

Day 8 Winners

Deena P.,

Lampe, MO

Kim M., Butler, PA

Nicola H., Naugatuck, CT

Brenda C., Huntsville, AL

Samantha L., Kansas City, MO

Margaret R., Hoboken, NJ

Rachel S., Ellwood City, PA

Shelly R., Mt. Clemens, MI

Miranda M., Escondido, CA

Day 9 Winners

Rhea G.,

Sonora, CA

Michelle H., Bakersfield, CA

Jen B., Chandler, AZ

Laura B., Saint Louis, MO

Rachel B., West Chester, PA

Gabriele K., Thornton, CO

Andrea M., Cincinnati, OH

John N., Valencia, CA

Shawna D., Ephrata, PA

Day 10 Winners

Debra M.,

Bethlehem, PA

Cheryl L., Channahon, IL

Melissa C., Murrieta, CA

Traci C., Merriam, KS

Jennifer G., San Jaun, PR

Misi M., Jackson, MI

Jana H., Elk Grove, CA

Denise P., Washington, MI

Bruce V., Hockessin, DE

Day 11 Winners
Day 12 Winners
Grand Prize Winners
Check back every day for the latest winners and let us know if you are one of them by commenting below.