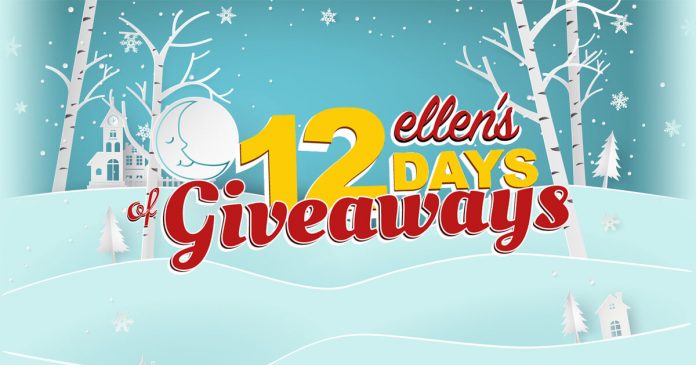 Wondering who are the winners of Ellen's 12 Days of Giveaways? Think you might be among the lucky ones? You can find the list of winners by visiting ellentube.com/12days but you can also easily find the answer to your question here on Winzily.
Ellen winners are announced each day during the show and the names of the 12 Days of Christmas winners are added at the bottom of each giveaway page on Ellentube. To make things easier for everyone, we are listing every single Ellen 12 Days Winners in the chart below.
Who Are The Ellen 12 Days Of Giveaways Winners?
Days
Ellentube
Facebook
Twitter
Instagram
Snapchat
YouTube
Heads Up
Emoji Exploji
Psych
Hot Hands
Ellentube Facebook
Show Me More Show
Day 1 Winners
Angie CM.– Bellevue, NE

Heidie B.– Council Bluffs, IA

Michael R.– Plymouth, MA
Bill D.– Prescott, AZ
Rita C.– Parkton, MD
Melanie P.– Maumee, OH
Alex K.– Charlotte, NC
Malissa B.– Perris, CA
Jae G.– Bakersfield, CA
Stephanie S.– Albuquerque, NM
Maggie M.– Marblehead, MA
 —
 —
Day 2 Winners
Denise W. — Lincroft, NJ

Javier R. — West Chester, PA

Katie L. — Fond du Lac, WI
Connie K. — Salem, WI
Kayla W. — Gaines, MI
Ian B. — San Diego, CA
Sarah P. — Eastlake, OH
Debi L. — Omaha, NE
Addie F. — Cody, WY
Joanne F. — San Diego, CA
Cathy E. — Olympia, WA
—
 —
Day 3 Winners
Becky P. — Knoxville, TN

David M. — Lordi, CA

Tammi M. — Saegertown, PA
Michelle R. — Colton, CA
Tiana S. — Cutler Bay, FL
Christine M. — Metairie, LA
Mitchell H. — Salt Lake City, UT
Lynda N. — Monrovia, CA
Maria C. — Northridge, CA
 —
Diane M. — Flanders, NJ
Amanda W. — Benton, ME
 —
Day 4 Winners
Caroline R.– Cookeville, TN

Tyesha W.– Odenton, MD

Bud M.– Woodscross, UT
Shelly C.– Harvey, LA
Ramon E.– Van Nuys, CA
Olivia M.– Branford, CT
Lucy R.– Hemet, CA
Dustin P.– Eagle Mountain, UT

Kate D.– Mooresville, NC

Latonya G.– Whiteville, NC
Shannon R.– Dover Plains, NY
—
—
 —
Day 5 Winners
Sue L.– Lombard, IL

Jen M.– Fort Wayne, IN

Debra G.– Jurupa Valley, CA
Esmeralda M.– Omaha, NE
Monica M.– Stillwater, OK
Amy-Jean L.– Lunenburg, MA
Thary C.– San Bernardino, CA
Linda R.– San Jose, CA
Priscilla S.– Houston, TX
 —
Carol B. — Berkeley Heights, NJ
 —
Bradley N.– Winchester, OH
Day 6 Winners
 Jean C. — Palm City, FL

Elizabeth H. — Lawndale, CA

Jessica N. — Alpharetta, GA
Aimee M. —Mukilteo, WA
Aida M. — Comstock Park, MI
Michelle S. — James, NY
Chris C. — Fulton, MD
Jasamine S. — San Diego, CA
Roxana B. — Las Vegas, NV
 —
Erin S. — Toms River, NJ
Laura D. — Flint, MI
 —
Day 7 Winners
Ana C. — El Paso, TX

Joann M. — Bloomingdale, IL

Grace M. — Irvine, CA
Elyse S. — Flushing, MI
Angie S. — Kenilworth, NJ
Adriana G. —Lemoore, CA
Cheryl B. — Devils Lake, ND
Michelle B. — Cape Coral, FL
Steevan F. — Brockton, MA
 —
Brenda M. — New Castle, VA
 —
Morgan T. — Eugene, OR
Day 8 Winners

Dolly N.– Fremont, CA

Ashley K.– Westfield, IN

Jeni F.– Baton Rouge, LA

Torri H.– Butte, MT

Karen H.– Mesa, AZ

Kiana M.– Humble, TX

Kristen B.– Phoenix, AZ

Mitchell B.– Hot Sulphur Springs, CO

 —

Jill S.– Maple Heights, OH

 —

Jordan W.– Meridian, ID

Day 9 Winners
Jeni C. – Ankeny, IA


Monique M.– Compton, CA

Kristy L. – West Bend, WI

Elyse S.– Flushing, MI

Trudy A.– Houma, LA

Nida F. — Sugar Land, TX

Amy S.– Erath, LA

Erin R.– St. Louis, MO

Denise G.– Toledo, OH

 —

Jaina H.– Oswego, OR

Kitty D.– Leander, TX

 —
Day 10 Winners

Romaine V.– Albuquerque, NM

Albin L.– Roxbury, MA

Shaniqua E.– Dewitt, NY

Kristine R.– Phoenix, AZ

Alicia B.– Mascoutah, IL

Marie R.– Webster, NY

Bonnie P.– Sparta, NC

William B.– Tempe, AZ

 —
 —

Fawnda H.– Pittsburgh, PA

 —

Debra T.– Waldoboro, ME

Day 11 Winners

Carolyn K.– Alexandria, VA

Geno H.– Santa Ana, CA

Amy M.– Chino, CA

Kathryn T.– Spring Hill, FL

Robert J.– Wichita, KS

Kristy R.– Cedar Hill

Rachel T.– Wills Point, TX

Tawnia A.– Camarillo, CA

Tina L.– Henniker, NH

Alexis B.– Smithfield, RI

Jeanne L.– Leesburg, VA

 —
 —
Day 12 Winners

Ashley C.– Mount Morris, MI

Julie M.– Ocala, FL

Lynette W.– Matteson, IL

Rhonda L.– Dyersburg, TN

Amanda O.– Redding, CA

Jillian P.– Belle Mead, NJ

Julie V.– Arnoldsburg, WV

Kristi J.– Dunedin, FL

Kelsea G.– Reading, PA

 —

Dawn G.– Fife Lake, MI

 —

Emily J.– Bellevue, NE

Day 13 Winners

Laura D.– Lakemore, OH

Chris B.– Davidson, MI

Kathy S.– Gardernville, NV

Jackie L.– Philadelphia, PA

Laura M.– Ormond Beach, FL

Teri L.– Oakcreek, WI

Melissa M.– Ashland, PA

Maria M.– Ventura, CA

Marina G.– College Station, TX

 —

Jenna S.– Middletown, RI

Teresa R.– Littlefork, MN

Day 14 Winners

Dawn T. — Woodbury, CT

Angela C. — Waltham, MA

Tia G. — Melbourne, FL

Jessica K. — Laurence Harbor, NJ

Lisa C. — Virginia Beach, VA

Julie C. — Lake Orion, MI

Sandra H. — Portland, OR

Sonja B. — Bowling Green, KY

Gina G. — Albuquerque, NM

Rhyana B. — Rockwall, TX

Sandi C. — Fayetteville, TN

 —
 —
Day 15 Winners
Check back every day for the latest winners and let us know if you are one of them by commenting below.