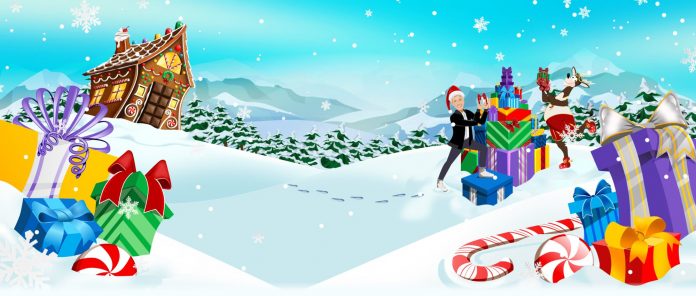 Wondering who are the winners of Ellen 12 Days Of Giveaways 2019? Think you might be among the lucky ones? You can find the list of winners by visiting ellentube.com/12days but you can also easily find the answer to your question here on Winzily.
Ellen winners are announced each day during the show and the names of the 12 Days of Christmas winners are added at the bottom of each giveaway page on Ellentube. To make things easier for everyone, we are listing every single Ellen 12 Days Winners in the chart below.
Who Are The Ellen 12 Days Of Giveaways Winners?
Days
Names
12 Days Preview Winners
John B. – Boyds, MD
Kate K. – Wilmington, DE
Lisa C. – Irvine, CA
Julio U. – South Gate, CA
Shaun M. – Amarillo, TX
Kristin S. – River Grove, IL
Angela M. – Jamestown, NY
Ntika M. – Irving, TX
Stuart H. – Apex, NC
Diana C. – Oakley, IL
Black Friday Winners
Virginia M. – Onalaska, WI
Mitchel S. – Evansville, IN
Johnny L. – Sacramento, CA
Terri Rees – Las Vegas, NV
Kristin S. – Northville, MI
Tedd W. – Selingsgrove, PA
Pat H. – Stockton, CA
Becky A. – Spooner, WI
Connie T. – Methuen, MA
Angela L. – Lafayette, CO
Day 1 Winners
Shannan B. – Berea, KY
Desiree F. – Spring Hill, FL
Kristin N. – Knoxville, TN
Bailee B. – Fairfax, VA
Juliat B. – Oxnard, CA
Kirsten L. – Concord, NC
Dan S. – Cape Coral, FL
Kairee H. – New Berlin, WI
Alberto R. – West Sacramento, CA
Kevin F. – Detroit, MI
Day 2 Winners
Kai P. – Boston, MA
Lisa M. – Lansing, KS
Tara O. – Royersford, PA
Marisa T. – Vero Beach, FL
Maggie O. – Los Angeles, CA
Ankur J. – Olathe, KS
Justin Y. – Muncie, IN
Sharon S. – Munford, TN
Shelly H. – Pottsville, PA
Chris S. – Brownsburg, IN
Day 3 Winners
Bianca T. – Albuquerque, NM
Kristen S. – Laconia, NH
Adriana L. – Indianapolis, IN
Cynthia P. – West Bloomfield, MI
Chris M. – Cedar Creek, TX
Marcus W. – Chattanooga, TN
Alissa M. – Sylvania, OH
Tracy W. – Washington, DC
Sandy G. – Fishers, IN
Karin H. – Los Angeles, CA
Day 4 Winners
Lela H. – Camden, DE
Dawn B. – Phoenix, AZ
Christine A. – Wallkill, NY
Tracey M. – Clarence Center, NY
Rosalia G. – Bonita, CA
Karen H. – Norwalk, CA
Melanie Q. – Normal, IL
Nicole V. – Lakeville, MN
Richard K. – Oklahoma City, OK
Jennifer M. – Jensen Beach, FL
Day 5 Winners
Meagan B. – Novi, MI
Amy K. – Carver, MN
Amber L. – Windsor Locks, CT
William H. – Vassalboro, MD
Christal O. – Harrison, MI
Ichen Y. – Chicago, IL
Kaitlin G. – Los Lunas, NM
Teisha S. – Battle Creek, MI
Katie B. – Houston, TX
Britin W. – Exeter, CA
Day 6 Winners
Jessica W. – Orlando, FL
Luis P. – Panorama City, CA
Renae W. – Largo, FL
Alice A. – Malvern, AR
Vinnie G. – Cathedral City, CA
Allie M. – Lake Forest, IL
Suzy H. – Crawfordsville, IN
Christopher V. – Port Hueneme, CA
Diana B. – Lakewood, CO
Bonnie S. – Amite, LA
Day 7 Winners
Hang T. – El Monte, CA
Jeremy B. – Lake Charles, LA
Lauren P. – Anniston, AL
Kristine K. – Springfield, TN
Carmen R. – Las Vegas, NV
Tamara W. – Hopkinsville, KY
MeMe B. – Poinciana, FL
Evangelina E. – San Tan Valley, AZ
Randall G. – Omaha, NE
Sherry P. – Emmaus, PA
Day 8 Winners
Michelle K. – Sinking Spring, PA
Haili M. – Northville, MI
Rachelle M. – North Huntington, PA
Lindsey T. – Pawtucket, RI
Amy E. – Grand Junction, CO
Tyler L. – Ripon, WI
Gina C. – Los Angeles, CA
Alicia F. – Downey, CA
James W. – Grand Rapids, MI
Alexis S. – Fairborn, OH
Day 9 Winners
Kendra F. – Peoria, IL
Ashley C. – Dothan, AL
Brandie M. – Kendall Park, NJ
Hannah W. – Rideway, WI
Sandy B. – Grapevine, TX
Juliana C. – Kansas City, MO
Frank P. – Midlothian, TX
Trisha C. – Colbert, OK
Mark W. – Homewood, AL
Carm H. – Rockton, IL
Day 10 Winners
Laura C. – Albany, OR
Silver W. – Meriden, CT
Roberta C. – Shelbyville, KY
Erica L. – Hopkinsville, KY
Daniel W. – Los Angeles, CA
Bari M. – Flower Mound, TX
Elizabeth M. – Bell Gardens, CA
Chris M. – Nashville, TN
Candy M. – Port Charlotte, FL
Tania P. – Keyser, WV
Day 11 Winners
Lorrie P. – Canton, OH
Veronica L. – Sparks, NV
Judy P. – Sugar Land, TX
Paris M. – Aurora, CO
Andru L. – Mesa, AZ
Angie K. – Andover, KS
Jennifer L. – West Allis, WI
Nakona M. – Baltimore, MD
Kelby S. – Springfield, OR
Alyssa C. – Freehold, NJ
Day 12 Winners
Grand Prize Winners
Check back every day for the latest winners and let us know if you are one of them by commenting below.