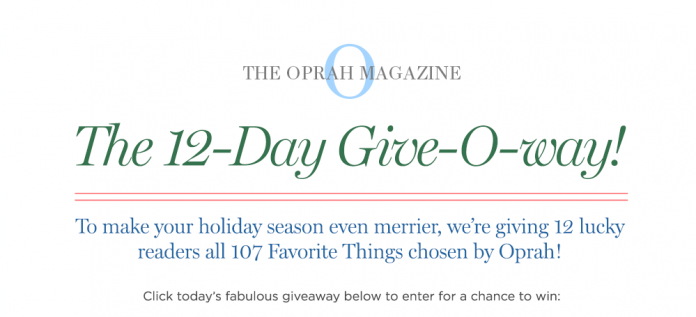 The Oprah 12 Days of Christmas are about to start. Beginning on November 28, you will have the chance to enter this year's Oprah 12 Days Give-O-Way for a chance to win all 107 Favorite Things chosen by Oprah.
In the meanwhile, you can also enter Oprah's Favorite Things 2018 Instant Win Sweepstakes for a chance to win the perfect presents including some favorite Favorite Things from back in the day.
To enter the Oprah 12 Days Contest, you will have to find the 12 icons scattered throughout the pages of the December 2018 issue of O, The Oprah Magazine. If you are not a magazine subscriber, you will be able to find all the special codes in our chart below.
Oprah 12 Days Give-O-Way Special Codes
| Day | Oprah 12 Days of Christmas Special Codes |
| --- | --- |
| November 28, 2018 | 014 |
| November 29, 2018 | 036 |
| November 30, 2018 | 040 |
| December 1, 2018 | 067 |
| December 2, 2018 | 075 |
| December 3, 2018 | 087 |
| December 4, 2018 | 113 |
| December 5, 2018 | 120 |
| December 6, 2018 | 131 |
| December 7, 2018 | 151 |
| December 8, 2018 | 157 |
| December 9, 2018 | 183 |