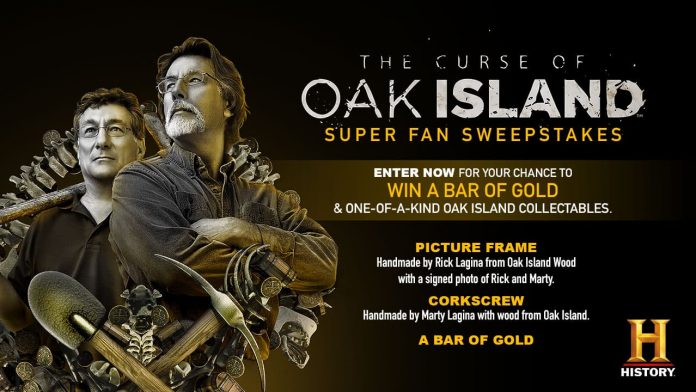 History Channel invites you to visit history.com/cursesweepstakes and enter the Curse Of Oak Island Sweepstakes for a chance to win a bar of gold.
One winne will receive one picture frame made by Rick Lagina from Oak Island wood, one corkscrew made by Marty Lagina from Oak Island wood, one signed photo of Rick and Marty Lagina and one 2-oz. gold bar.
What Is The Oak Island Contest

The History Channel Oak Island Contest is a Sweepstakes sponsored by A&E Television Networks. To enter the Sweepstakes you must be a legal resident of one of the 50 United States or the District of Columbia and be at least 18 years of age (or the age of majority in your state if different) at the time of entry.
The Contest Period begins March 24, 2020 and ends April 28, 2020. You can enter one time per day during the Sweepstakes Period.
How To Enter At History.com/CurseSweepstakes

To enter the Oak Island Sweepstakes, go to history.com/cursesweepstakes and complete the registration form you will be prompted to fill out.
For complete details and official rules, visit www.history.com/cursesweepstakes.