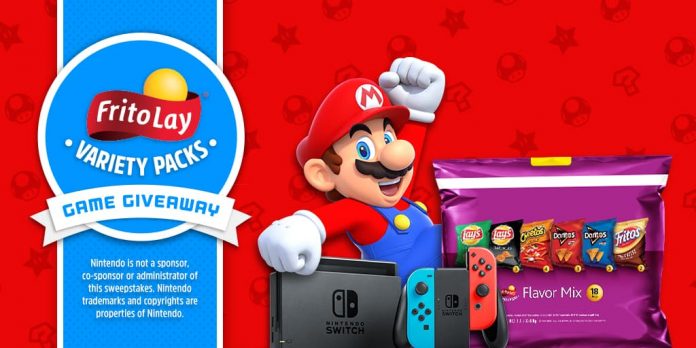 Enter the FLVP Game Giveaway at FLVPGameGiveaway.com starting March 25, 2019 for a chance to win a Nintendo Switch and 3 games.
Frito-Lay Variety Packs is giving a Nintendo Switch and 3 games every hour in this Nintendo Switch Giveaway that runs through May 19. Each play is a chance to win.
Once you enter your code, you can play and instantly see if your play has won!
How To Enter At FLVPGameGiveaway.com
Every code earns you more plays into the FLVP Game Giveaway. Each play is a chance to win. Play up to three times per day and instantly see if you've won a Nintendo Switch system.
Purchase any specially-marked Frito-Lay Variety Packs bag.
Look for the unique 10-digit alphanumeric code located on the back panel.
Visit FLVPGameGiveaway.com and enter your bag code.
FLVP Game Giveaway Details
The FLVP Game Giveaway is open only to legal residents of any of the fifty (50) U.S. states and the District of Columbia, who are thirteen (13) years of age or older at the time of participation.
It runs from March 25, 2019 through May 19, 2019.
You can enter up to 3 codes per day.
Prizes will be awarded at a rate of one Nintendo Switch system & 3 games per hour for the duration of the sweepstakes.
Sponsored by Frito-Lay, Inc., 7701 Legacy Drive, Plano, TX 75024-4099.
For complete details and official rules, visit www.flvpgamegiveaway.com.